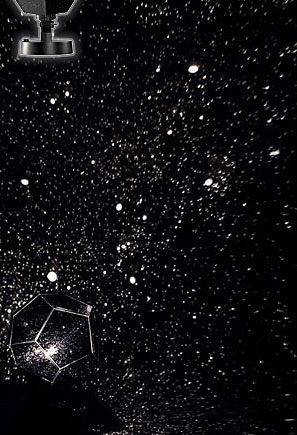 The Science for Adults editorial team has worked together with Takayuki Ohira, the designer of the world's most advanced planetarium, Megastar, over the past three year on our own planetarium project.
Thanks to support from the Open Lab at the Japan Aerospace Exploration Agency (JAXA), we have successfully created a pinhole planetarium capable of projecting an unprecedented stars. Our planetarium features a stellar globe with a regular-dodecahedron structure and upon which data for approximately 10,000 fixed stars of the seventh magnitude and higher has been plotted. The angle and rotation of this stellar globe can be set to project the Northern-hemisphere night sky for any location, date, or time.
As with all other supplement kits, you assemble the pinhole planetarium for yourself. And with a wide range of modifications also introduced within the magazine itself, you can easily customize it to your original planetarium.

We invite everyone to experience the thrill of illuminating rooms with the light of the heavens.